Moroccan Infused Soap Handcrafted in Los Angeles, CA.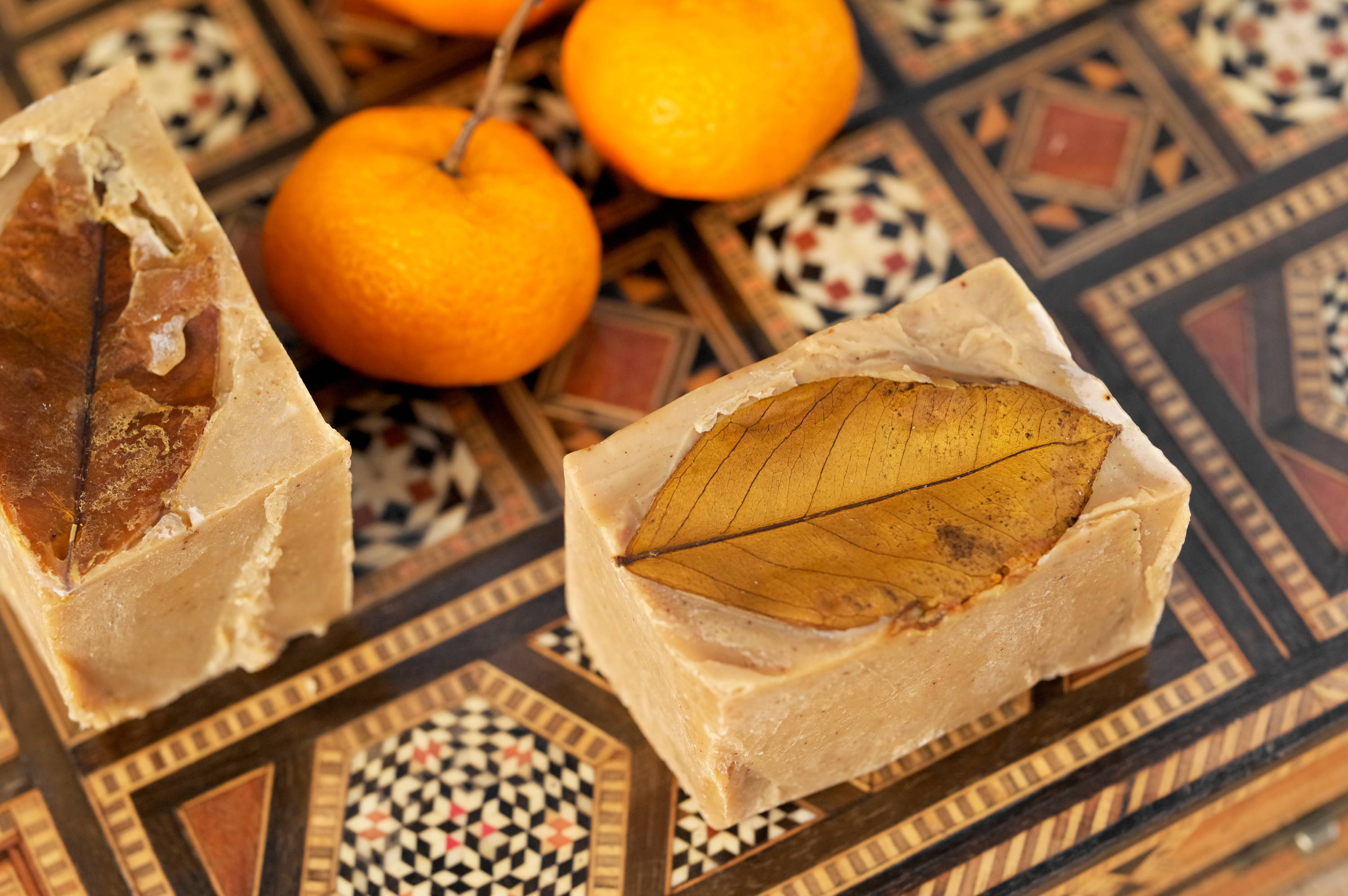 Ourika Soaps contain a delightful mix of authentic, vibrant moroccan ingredients and contemporary components celebrated by the modern cosmetic industry. Four main ingredients form the nourishing, wholesome foundation of our soap: Olive Oil, Argan Oil, Shea Butter and Coconut Oil. These natural, luxuriant moisturizers nurture your skin, balancing the pure, organic methods of Moroccan Hammam, and the flawless efficiency of Los Angeles self care products. With the addition of the natural exfoliator Loofah, and exotic Moroccan herbs and clays, our soaps combine the best of both worlds to give you a refreshing, unique fusion of ingredients, and revolutionize your skin care routine.
For centuries, loofah has been a central part of Arabian bathing rituals. In the tradition of Moroccan Hammams, the loofah sponge scrubs the skin, lending the body a natural, healthy glow. Loofah is entirely organic and biodegradable, crafted by Mother Nature, and its slightly rough fibers expertly exfoliate, smoothing and rejuvenating your skin. Cleansing your body with loofah is a relaxing, peaceful experience which relieves tension and stress, leaving your skin silky and soft. At Ourika Soap, we incorporate natural loofah into every bar to preserve its gentle exfoliation, and make the luxury of Moroccan Hammam accessible to you.
To get the most relaxing and authentic experience out of using Ourika Soap, you must follow these simple steps, inspired by the bathing customs of Moroccan Hammams. First, rub one of Ourika's versatile soaps on a sponge or washcloth, creating a rich, luxurious lather, and apply the cloth to your body, cleansing and purifying your skin. Next, scrub your body directly with the bar of soap, activating the gentle exfoliation of the loofah to soften and smooth your skin. Using this traditional bathing method is guaranteed to give you the best of Ourika Soaps!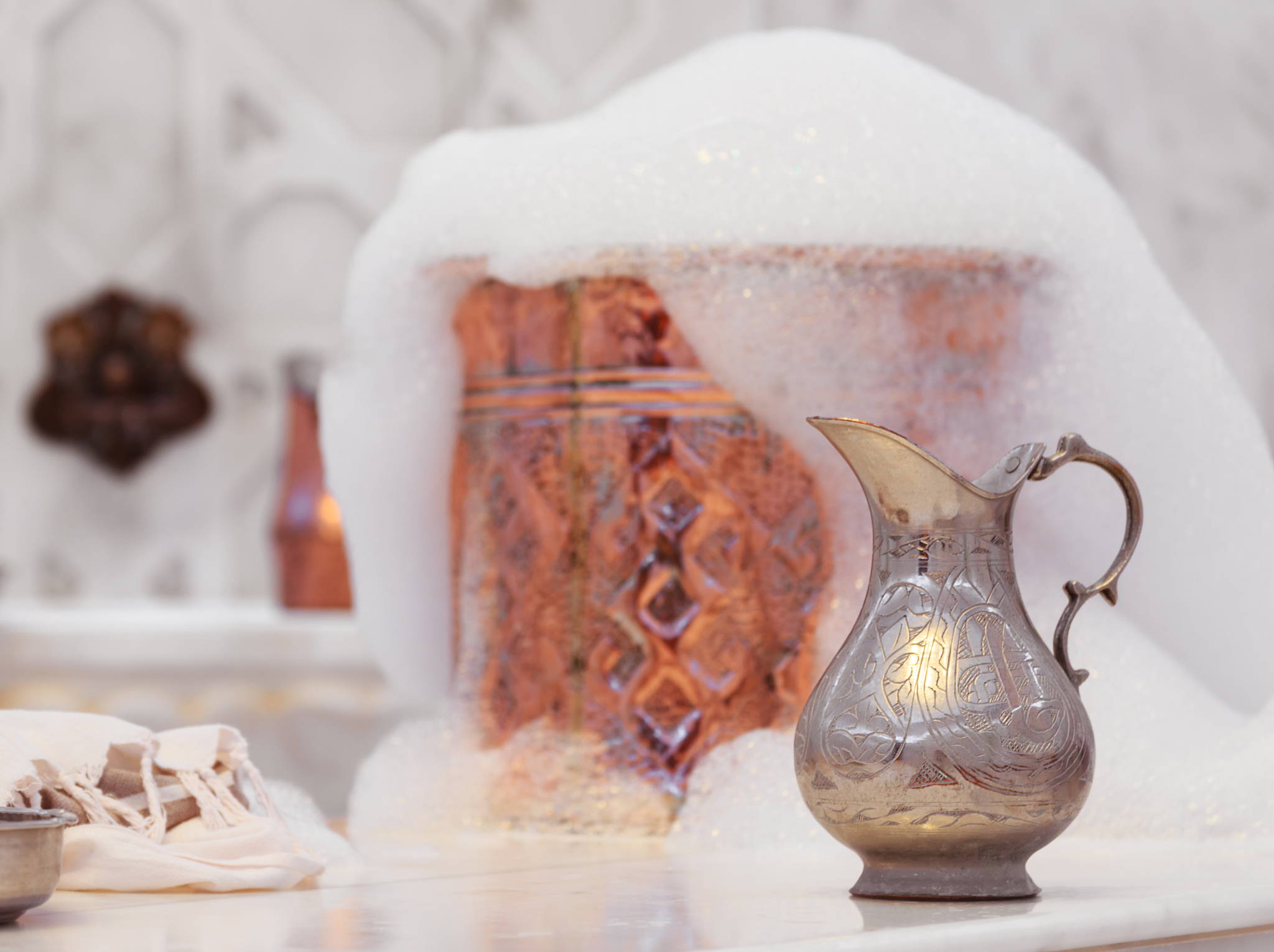 ---
Arabian Musk: Sprinkled with timijja mint gathered in the Atlas mountains, this exotic bar is infused with Arabian Musk Oil which purifies and hydrates, all the while reducing the appearance of any scars or wrinkles. The sultry scent of White Musk oil, combined with the heady fragrance of Eucalyptus and the rich silkiness of Rhassoul Clay, will leave your skin luxuriously perfumed and smooth.
Atlas Cedarwood: Organic Argan Oil and Shea Butter soften and enrich the skin, while earthy notes of Atlas Cedar blend with the sweet, zesty aromas of Rosemary and Lemon; creating a calm, harmonious atmosphere and dispelling all negativity. Dotted with bright calendula flowers, this uplifting bar is as refreshing and revitalising as a brisk walk through a mountainous cedarwood forest.
Bergamot: Infused with calming lavender, this revitalizing soap is awash with citrusy goodness. Bergamot oil gently cleanses and purifies, as lemon oil brightens and tones your skin. The sweet, tangy scent and soft, luxurious lather of this rejuvenating bar will uplift your mood and dispel any negativity, while relieving muscle pain and healing any damaged skin.
Charcoal: Activated charcoal and natural loofah combine in this purifying bar to draw out any toxins and to gently exfoliate your skin, ensuring a flawless complexion. Renowned in ancient Asian medicine, restorative patchouli oil nourishes and soothes the skin, healing scars and blemishes. The earthy texture of this charcoal bar, rugged yet soft, creates a luxurious lather, while a calming aroma of lavender relaxes your mood.
Eucalyptus: Topped with calming chamomile flowers, this refreshing bar of soap is infused with Eucalyptus oil, which cleanses your pores and purifies your skin, while soothing sore muscles and relieving headaches. The sweet, woody scent and intense azure shade of this uplifting bar will be sure to brighten your morning routine.
Green Tea Clove: Moroccan green tea gently exfoliates and rejuvenates the skin, while organic paprika nurtures a bright, youthful complexion. Rich clove and aromatic cardamom oil combine in this invigorating bar to cleanse and heal your skin. This soap's warm, natural orange tone and sweet, spicy scent will bring an oriental twist to your morning routine.
Mediterranean Marjoram: Treasured in ancient Arabian medicine, Marjoram oil calms the mind, relieving any stress or anxiety, and relaxes the body, soothing muscle pain. Topped with tranquil jasmine flowers, this healing bar combines skin care and self care as the woody, tangy scents of Atlas Cedar and Orange Bitter oil create a warm, harmonious atmosphere, while also cleansing and purifying your skin.
Rhassoul Clay: Adorned with an orange leaf, this calming, citrus soap is infused with Orange Bitter Oil to cleanse and balance your skin. Natural Rhassoul clay, found in the ancient lake beds of the Atlas mountains, nourishes and moisturises, whilst turmeric gently soothes and exfoliates. The silky clays and lively spices of Morocco will make your skin smooth, soft and glowing.
Rose petals: Sprinkled with Atlas rose petals, this soothing bar repairs and rejuvenates. Organic Rose oil, laden with vitamins and minerals coupled with moroccan Neroli oil, moisturizes the skin and gently treats any redness or blemishes. The silky, sumptuous texture of this elegant soap will leave your skin supple, soft and flawless.
Wild Geranium: Exalted by ancient Egyptian medicine, Geranium oil promotes beautiful, radiant skin, while dispelling any stress or negativity. Sprinkled with delicate lavender, this healing bar uplifts your mood with its sweet, floral scent, and soft, soothing texture, while Geranium oil treats muscle pain and relieves fatigue. Add this calming, herbal soap to your morning routine to relax your mind and body.